Companies who've gone before you
We're proud of the companies we've been able to help thus far and would like you to join this list!

Let us walk you through the options
There are a lot of options out there to hiring remote developers these days. Let us walk you through what we can help you with.
As the demand for iOS application development is rapidly increasing, so is the need for qualified Swift developers. Companies are increasingly turning to remote staff augmentation or dedicated teams to meet this demand. This article will discuss the benefits of hiring Swift developers remotely and provide tips on staffing and managing these teams.
The first benefit of hiring Swift developers remotely is cost savings. By eliminating the need to hire and retain full-time employees, companies can save on costs such as salaries, office space, and equipment. Additionally, remote contractors can be hired on a project-by-project basis, eliminating the need for long-term contracts and enabling companies to scale up and down their teams as needed.
Another benefit of remote staff augmentation or dedicated teams is access to a global talent pool. By hiring remote Swift developers, companies can access top-tier talent from around the world, allowing them to tap into a larger and more diverse pool of developers. This can be especially beneficial for smaller companies that may not have access to the same talent locally.
When it comes to staffing and managing remote teams, it's important to create a well-defined process for onboarding and managing contractors. This should include setting expectations and laying out the team's roles and responsibilities, as well as providing training and support. It's also important to ensure that communication is clear and consistent, and that contractors have the necessary tools and resources to do their jobs effectively.
Finally, companies should take steps to ensure that their remote teams are secure and compliant with industry standards. This includes ensuring that contractors' workstations are up to date with the latest security patches, and that they are using secure communications and data storage protocols. Additionally, companies should have a process in place to regularly monitor their teams and ensure they are following best practices.
Overall, hiring Swift developers remotely can be an effective and cost-efficient way to meet the growing demand for iOS application development. By taking the necessary steps to ensure their remote teams are secure, compliant, and well managed, companies can access top-tier talent from around the world and scale up or down as needed.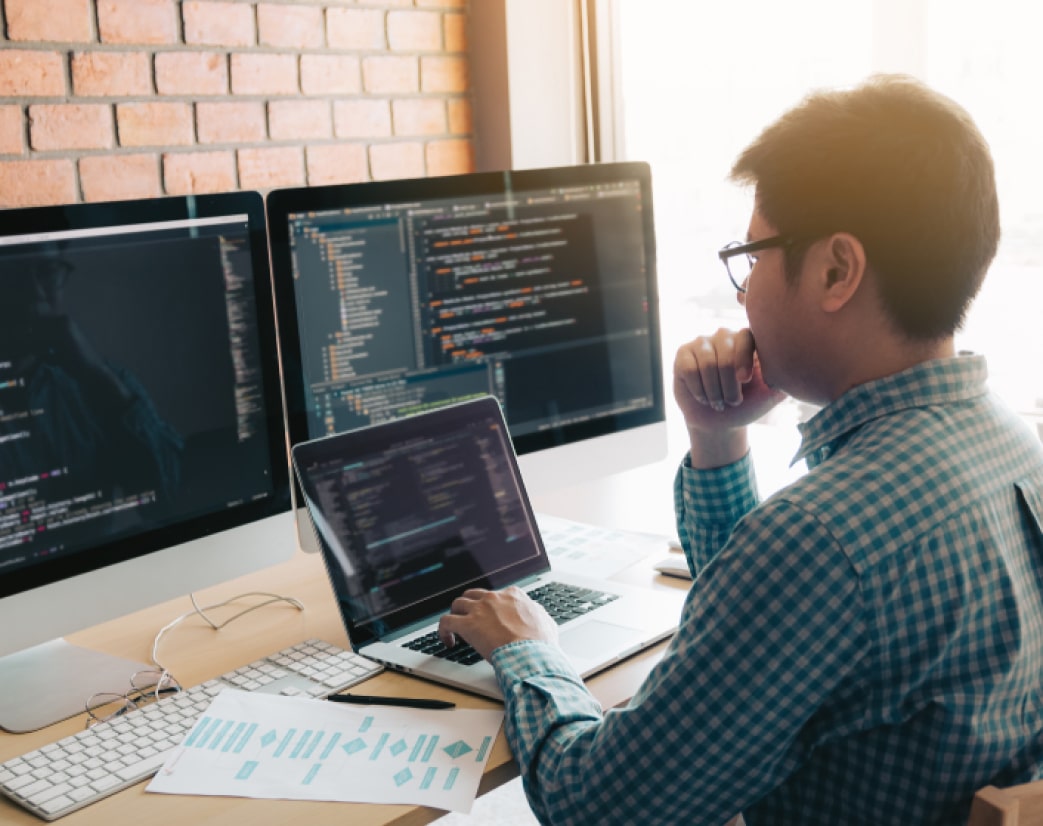 Help your business Grow faster with expert developers
You have tried Outstaffing and it doesn't work, right? What sets us apart from the herd is our unique approach to hiring and nurturing top talent in-house so that they can produce the best quality for you.
We are a European technical talent acquisition firm with outstaffing capabilities for expert project managers and full-stack developers. Our developers will put you on the right track.
Because You Are In Control
We work for you, not the other way around. Get full control of your dedicated outstaffed resources. Fully manage the complete software development lifecycle. Get daily, weekly, and monthly progress reports.
We Have Qualified & Experienced Developers
We are very stringent about who we hire. Our developers and software engineers are thoroughly vetted and nurtured to achieve a top level of excellence. So you can get fully capable developers.
Fluent in English - No Language Barrier
Language barriers often lead to project delays and misinterpreted information. Our developers have a good command of the English language with a clear and easily understandable accent.
Proactive & Scalable Business Model
Our work model is proactive and scalable. You can increase or decrease the number of outstaffed resources on the go. It's a lot cheaper and feasible than hiring an onsite IT team.
High Standards, Creativity & Innovation
We uphold high standards in all of our operations, resulting in very high-quality code and management. We are always looking for new creative ways to improve technology. We are a Dutch company and thus all of the EU compliance rules are there to protect you.
We Hire & Nurture Top Software Talent Remotely For You
Scale up your business and make it agile with our remote outstaffing services.We let you have full control over the development process while we directly ensure agile performance. So you can enjoy significant savings as well as quicker project turnovers.
Share Your Plans
We hear your ideas, and our technical managers assign skilled outstaffed resources according to your project preference.
Project Consultation
Our project managers provide expert consultation on the nature and future of the project. We build the whole project timeline with budget estimations for you.
Contract & Project Kick-off
We develop a contract and an SLA with deliverables, budgets, project planning, and terms & conditions. Your dedicated developers start working ASAP.
Fully Managed Resources
Your dedicated developers & designers start work on your project while being in touch with you. Get regular updates and proper consultation for future ideas and plans.
Team Working For You
Our outstaffed developers and designers are not dummies. They have the ability to say 'No' to a bad idea. They work for the betterment of your project and the company, not against it.